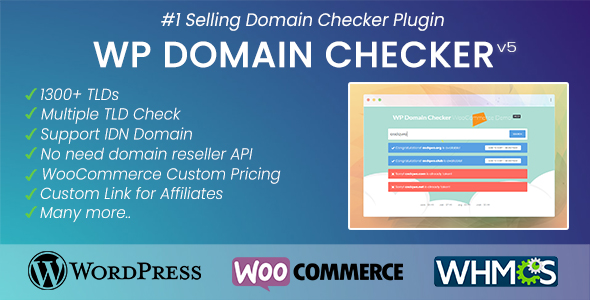 WP DOMAIN CHECKER v5.1.1 – Last Update: Feb 10 2021
WP Domain Checker is a WordPress plugin which allow you easily to check domain name availability from your wordpress site.
You can check or search for any generic top-level domains (gTLD) or country-code top-level domains (ccTLD).
WP Domain Checker is made with AJAX and easily to use with Shortcode or Widget also integrated with WHMCS & WooCommerce.
Features
Check domain name availability for any gTLD and ccTLD
Whois domain name
Made with AJAX
Easily use multiple checker with Shortcode
Easily use with Widget
Easily check from dashboard admin
Easily customize from admin panel
No need domain reseller API
Custom Link for Affiliates
Integrated with WHMCS
Integrated with WooCommerce
Support IDN Domain Check
Protected with New Google reCAPTCHA
Support more than 1300+ TLDs
Allow Only Specific TLD Extensions to Check
Custom Pricing for WooCommerce
Custom CSS
Unlimited Colors
Multiple TLDs Check
Domain Caches
Custom Whois Server
Support WHMCS Bridge & WHMPRESS
Transfer Button
Whois Domain Lookup Only
Whois IP Address Lookup
<img src="https://i.imgur.com/klTHojC.gif" alt="WP Domain Checker - 4" />

Change Log

v.5.1.1 - 10 Feb 2020
New - Added IP Address Whois Lookup
Fix - Font Awesome conflict
Fix - Minor code/bug fixes.

v.5.1.0 - 30 November 2020
New - Added Whois Domain Lookup Only. (Howto: use option whoislookuponly="yes" in the shortcode)
Improvement - There are two options to display multiple TLD check, Full or Partial.
Improvement - Add support to IDN TLD (e.g: .рф, etc). Only few IDN TLD supported currently. We will update more later.
Fix - White space in domain name.
Fix - Minor code/bug fixes.

v.5.0.4 - 27 July 2020
Fix - Changes on color style not take any effect in the frontend.
Fix - Custom Placeholder not working from shortcode.
Fix - Minor code fixes.

v.5.0.3 - 30 June 2020
Fix - All strings should be translatable.
Fix - Dashed domain can't be added to cart (WHMCS).
Fix - Minor code fixes.
Improvement - Google Fonts now hosted locally.

v.5.0.2 - 17 June 2020
Fix - Fix an issue due deprecated function in PHP Version > 7.2
Fix - Minor CSS fix.
Fix - Invisible recaptcha not working properly.

v.5.0 - 15 June 2020
New - Added new domain search form design, minimalist and clean. Check the documentation for more details.
New - Added Domain Cache, you can cache the domain result for X seconds. This is useful to avoid exceeding daily domain query limit from whois server.
Improvement - Added option to customize "Require Domain Text" and "Require Recaptcha Text" 
Improvement - Added option to enable/disable multiple TLD search at once.
Improvement - Few options in plugin settings now available in the Shortcode, check the documentation for more details.
Fix - Minor code fixes.

v.4.4.1 - 12 February 2020
Fix - Unsupported TLD message does not appear.
Fix - Minor code fixes.

v.4.4.0 - 3 February 2020
Improvement -  Added a option to limit domain character length for each TLD.
Improvement -  Added a option to use custom Whois Server (http based or whois based on port 43)
Improvement - Domain results sorting order now based on mutiple TLDs defined in the settings not randomly anymore.
Fix - Fixed XSS Vulnerability.
Fix - Minor code fixes

v.4.3.11 - 22 March 2019
Fix - Minor code fixes
Fix - Domain always taken on several website
Fix - Domain not showing in Cart
Improvement - Add WDC option in Product Type
Improvement - Add "allowed_tld" Shortcode parameter

v4.3.9 - 5 March 2019
Fix - Minor code fixes
Fix - Deprecated Function in PHP 7.x
Fix - Error with Woocommerce Force Sells Plugin
Improvement - Support HTTP Whois

v4.3.6 - 12 July 2018
Fix - Fixs all TLDs taken in v4.3.5

v4.3.5 - 12 July 2018
Fix - Minor CSS code fixes
Fix - Several TLDs fixes

v4.3.2 - 12 May 2018
Fix - Minor code fixes
Fix - UI not responsive on mobile device

v4.3.1 - 3 May 2018
Fix - Can't add to cart on Woocommerce Integration
Fix - Wrong custom pricing when TLD in Uppercase
Improvement - Improve UI on Widget 

v4.3.0 - 1 May 2018
New feature - Invisible Google Recaptcha (You may need create new Site Key & Secret Key)
Fix - Compability issues with Woocommerce Subscriptions
Improvement - Minor code fixes
Improvement - Added new template tag and available to use in custom url. ({domain} - {sld} - {tld})
Improvement - Ability to Custom whois button url & whois button text
Improvement - Ability to put link in all results box
Improvement - UX & UI improvements.

v4.2.0 - July 2017
Improve compatibility with Woocommerce 3.0.x
Add Whois Importer, Fix any broken TLDs remotely from settings.
Add Ajax Add to Cart (WooCommerce Only)
Improve Admin UI
Add WP Nonce to Whois Page to prevent spam.
Implement multiple ajax request on domain checker.

v4.0.2 - 30 June 2017
Improve compatibility with Woocommerce 3.0.x

v4.0.1 - 13 April 2017
Fix custom price issue with Woocommerce 3.0.x
Fixs -1 Error while any cache plugin Installed
Fixs several TLDs issues
Add some new TLDs

v4.0.0 - Jun 07, 2016
Fixs Recaptcha conflict with Contact Form 7
New Design & Speed Improvement
Update Titan Framework
1000+ TLDs

v.3.4.3 - Mar 14, 2016
Fixs Invalid Header
Update Titan Framework to latest version

v.3.4.2 - Feb 21, 2016
Fixs Custom Links Integration Bugs
Update API to new URL. (Important for user who get blocked on port 43 by their hosting)
Add some new TLDs.

v.3.4.0 - 15 Sep, 2015
Fix SSL Issues
Update Titan Framework to latest version
Fix Can't type Vowel Characters

v.3.3 - 24 Jul 2015
Fixs WHMCS add to cart issue.
Add some new TLDs (accountants, apartments, bingo, cafe, care, cash, casino, chat, church, city, claims, clinic, coach, credit, creditcard, deals, dental, digital, discount, exchange, fail, finance, financial, fitness, football)

v.3.2 - 10 Jun, 2015
Bug Fixs - Backspace issue in Firefox Browser
Add some new TLDs (.legal, .business, .ltda, .fashion, .flowers, .garden, .green, .wedding, .design, .auction, .band, .dentist, .forsale, .mortgage, .rip, .space, .cricket, .delivery, .energy, .lgbt, .party", .science, .vote, .yoga, .cymru, .wales, .market)

v.3.1 - 22 May, 2015
Bug Fixes - Multiple Check Function Conflict

v.3.0 - 19 May, 2015
Add Multiple TLDs Check
Add Styles Option (Unlimited Color)
Add Custom CSS
Hide Add to Cart Button on Single Page WooCommerce
Hide Add to Cart Button on Product Loop WooCommerce

v2.7 - Apr 4, 2015
Fix bug zero price of Custom Pricing for WooCommerce

v2.6 - Mar 14, 2015
Custom Pricing for WooCommerce

v2.5.1 - Mar 10, 2015
Fixs css style (text responsive)

v2.5 - Feb 28, 2015
Fix minor bugs
Redesign into Flat Bootstrap

v2.4 - Feb 25, 2015
Added some new TLD

v2.3 - Feb 5, 2015
Fixed force individual cart multiple items WooCommerce

v2.2 - Feb 1, 2015
Added multiple checkers for multiple product WooCommerce

v2.1 - Jan 24, 2015
Fixed force individual cart items WooCommerce

v2.0 - Jan 22, 2015
Added template tag {domain} to custom link
Added feature to allow specific TLD extensions to check
Fixed Minor Bugs

v1.3 - Jan 10, 2015
Added new TLDs suggested by user
Added new Google reCAPTCHA
Integrated with WooCommerce

v1.2 - Jan 7, 2015
Added IDN domain check support
Added more whois server

v1.1 - Jan 7, 2015
Fix Widget Dashboard Display
Move JS to footer

v1.0 - Jan 6, 2015
First Release