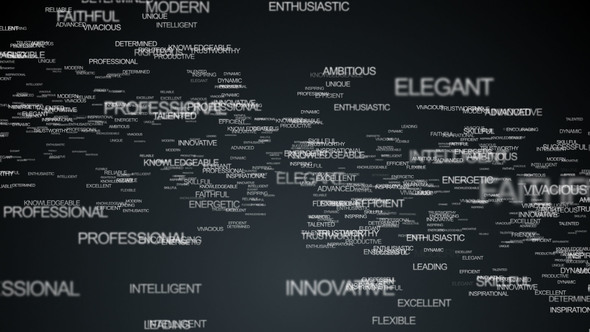 Logo animation featuring 30 adjectives to describe your corporate or personal attributes with a brand reveal at the end.
<strong><a href="https://videohive.net/item/icon-reveal/134778">Icon Reveal</a> is a similar style template utilizing icons.</strong>

<a href="http://www.youtube.com/watch?v=gPcISrV6P1M" rel="nofollow">

Information:
Trapcode Form 3 plugin required.
Easy customization – Edit, add or delete words as you please.
Customize words distribution,size and color
Video tutorial included.
Technical specifications:
1920×1080 HD.
16:9 Square Pixels.
25 Frames Per Second.
Adobe After Effects CS6 Project File.
Item support:
I take good care of my customers and offer free technical support for all of my items.
<p>If you are new to Adobe After Effects or using project templates feel free to contact me with your questions and i will get back to you as soon as possible.

<p>I can also customize and render the projects for you for a fixed rate.</p>