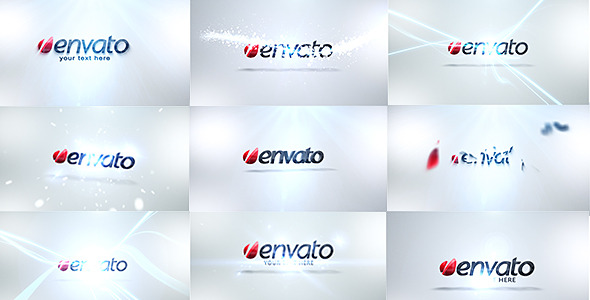 Professional, clean, bright, corporate logo/text animations with positive, elegant atmosphere to make your brand or message stand out!!!
High quality template well structured with attention to details!
<strong>Fully editable. Quick render: average 3 minutes/template  on i7, 4 cores!</strong>

<br /><strong>Main features:</strong>

10 AE project is included in the pack (5 normal logo versions and 5 3D logo versions)
Very easy to edit! Replace the logo with your own, rewrite tagline and render!
The template automatically makes your logo 3D, applies reflection and glare on it! ! (glare, reflection is removable from the logo; bright background is removable if not needed)
Full HD 1920×1080 px resolution (also HD 1280×720)
Compatible with After Effects CS4 or newer version.
No plug-in required!
Works with any logo or text!
<br />The audio files are not included!

The audio files used in the previews available here:
Logo opener 01: <a href="https://audiojungle.net/item/ambient-piano-logo/4718436">http://audiojungle.net/item/ambient-piano-logo/4718436</a>

Logo opener 02: <a href="https://audiojungle.net/item/clean-wipes-logo/6808870">http://audiojungle.net/item/clean-wipes-logo/6808870</a>

Logo opener 03: <a href="https://audiojungle.net/item/bright-logo/5645111">http://audiojungle.net/item/bright-logo/5645111</a>

Logo opener 04: <a href="https://audiojungle.net/item/bright-logo-2/4500341">http://audiojungle.net/item/bright-logo-2/4500341</a>

Logo opener 05: <a href="https://audiojungle.net/item/mystical-explosion-logo/2447424">http://audiojungle.net/item/mystical-explosion-logo/2447424</a>

<p><br /><strong>NEWEST PROJECTS!</strong>