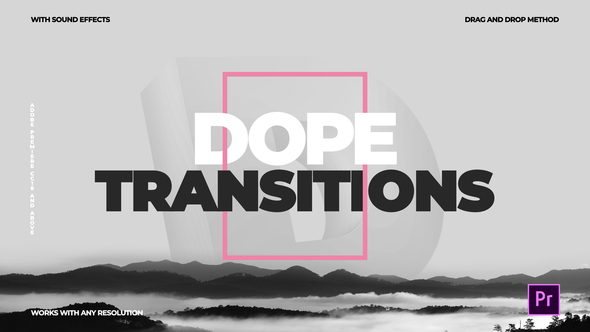 We present you the newest pack for Premiere Pro CC 2018 and above, the "Dope Transitions" Pack! Modern, easy to use and ready to give the professional boost you were looking for!
Feel free to check our HUGE pack here, with over 2000 transitions.
Updated v4.
<strong>464 Transitions for Premiere Pro CC 2018 12.1.0 and above</strong><br />

+Bonus 300 Light Leak Transitions
Fast Transitions (3 Speed Variations):

20 Frames animation
13 Frames animation
10 Frames animation
7 Frames animation

Fast Previews
Sound Effects for each Transition
Works with any resolution
Works with any fps
Video Tutorials
100% Premiere Pro (No After Effects needed)
<strong>USE IT IN YOUR OWN VIDEOHIVE PROJECTS:</strong><br />


<strong>You are free to use these transitions in any of your Videohive templates. You can use them to create your own slideshows, openers, logo reveals, promos, etc.</strong> Read more: <a href="https://videohive.net/licenses/faq#small-element-stock-a">Here</a><br />


<p><strong>Terms of use:</strong>

extended license purchase
You are not allowed to modify or resell this pack as an alternative item.
Use this item as a tool to improve your projects and respect the hard work of the artists behind this
Best Selling Item
<p><strong>Videos used on the Preview: <a href="https://www.candymustache.com/dope-transitions" rel="nofollow">Here</a></strong></p>