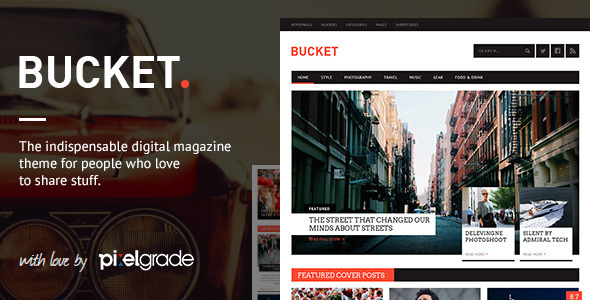 BUCKET is an indispensable Magazine Style WordPress Theme aimed at providing you with an easy-to-use tool to share your discoveries and showcase the latest findings.
Whether you're looking to share the latest cool things out there, write reviews for your favorite products, keep your visitors engaged with the latest videos, the hottest breaking news or special events, BUCKET is designed to fulfill these and more.
A powerful unique Admin Panel and a Custom Page Builder designed with ease of use in mind will enable you to setup your website in a matter of minutes. Everything just works the way you expect it to.
This is what BUCKET is all about: the right tool, in the right place, right when you need it!
  <table>

     <tr>
       <td><img src="https://pixelgrade.com/demos/assets/themes/bucket/presentation/review-system.png" alt="" /></td>
       <td>
    <h2 id="item-description__integrated-review-system">Integrated Review System</h2>
    Powerful <strong>custom review system</strong> including score breakdown and Pros &#38; Cons list.
    Check out various review posts: <a href="https://pixelgrade.com/demos/bucket/?p=31" rel="nofollow">Full Width Review Post</a>, <a href="https://pixelgrade.com/demos/bucket/?p=31" rel="nofollow">Pros and Cons</a> or <a href="https://pixelgrade.com/demos/bucket/?p=105" rel="nofollow">Paginated</a>.
     
   </td>
     </tr>
     <tr>
  <td><a href="http://www.youtube.com/watch?v=AJKuA1K17Dw" rel="nofollow"><img src="https://pixelgrade.com/demos/assets/themes/bucket/presentation/page-composer.png" alt="BUCKET - A Digital Magazine Style WordPress Theme - 1" /></a>
  </td>
       <td>
   <h2 id="item-description__custom-page-builder">Custom Page Builder</h2>
       Create unlimited home page layouts with our easy to use custom page builder.
       Check out some<strong> homepage examples</strong>: <a href="https://pixelgrade.com/demos/bucket/?page_id=249" rel="nofollow"><br />
         #1</a>, <a href="https://pixelgrade.com/demos/bucket/?page_id=251" rel="nofollow">#2</a> or <a href="https://pixelgrade.com/demos/bucket/?page_id=257" rel="nofollow">#3</a>
        
   </td>
     </tr>
      <tr>
       <td><img src="https://pixelgrade.com/demos/assets/themes/bucket/presentation/mobile-ready.png" alt="BUCKET - A Digital Magazine Style WordPress Theme - 2" /></td>
       <td><h2 id="item-description__mobile-ready-fully-responsive">Mobile Ready (fully responsive)</h2>
       Bucket features an OffCanvas menu to make it easy for your mobile users to discover you site.
       We support both iOS and Android mobile devices.
        </p></td>
     </tr>
      <tr>
       <td><img src="https://pixelgrade.com/demos/assets/themes/bucket/presentation/mega-menu.png" alt="BUCKET - A Digital Magazine Style WordPress Theme - 3" /></td>
       <td><h2 id="item-description__dropdown-mega-menu">DropDown Mega Menu</h2>
       <p>Our <strong>custom Mega Menu</strong> system allows you to focus your visitors at interesting posts by showcasing sub-menus, sliders and cards side-by-side. Choose to display the latest posts from a category as post cards and featured ones in a slider.
       <br /></td>
     </tr>
      <tr>
       <td><img src="https://pixelgrade.com/demos/assets/themes/bucket/presentation/header-layouts.png" alt="BUCKET - A Digital Magazine Style WordPress Theme - 4" /></td>
       <td><h2 id="item-description__three-header-layouts">Three Header Layouts</h2>
       You can use 3 different header layouts to best suit your site focus (social, ads, logo) and, on top of this, you can mix in <strong>2 color schemes (light and dark)</strong>
       All these controls are provides by the Theme Options.<br /> 
         <br />
       </p></td>
     </tr>
      <tr>
       <td><img src="https://pixelgrade.com/demos/assets/themes/bucket/presentation/social-seo-friendly.png" alt="BUCKET - A Digital Magazine Style WordPress Theme - 5" /></td>
       <td><h2 id="item-description__social-and-seo-friendly">Social and SEO Friendly</h2>
       <p>Integrated social share icons and likes using our custom <strong>PixLikes plugin</strong>. We&#8217;ve done our best to make it easy for <strong>Search Engines</strong> to discover your content through <strong>Schema.org markup</strong>, semantically correct markup, meta tags and much more.<br />
         <br />

       </td>
     </tr>
     <tr>
       <td><img src="https://pixelgrade.com/demos/assets/themes/bucket/presentation/google-fonts.png" alt="BUCKET - A Digital Magazine Style WordPress Theme - 6" /></td>
       <td><h2 id="item-description__-600-google-fonts">+600 Google Fonts</h2>
       Take control of your portfolio&#8217;s typography with custom fonts controlled through Theme Options. Access the massive <strong>Google Fonts library</strong> and create your unique style.
        </p></td>
     </tr>
      <tr>
       <td><img src="https://pixelgrade.com/demos/assets/themes/bucket/presentation/translation-ready.png" alt="BUCKET - A Digital Magazine Style WordPress Theme - 7" /></td>
       <td><h2 id="item-description__translation-ready">Translation Ready</h2>
       <p>BUCKET is fully compatible with WPML (.po files) so you can translate everything in your visitor&#8217;s language.<br />
         <br />
        <strong>BONUS</strong>: language files included for <strong>German, French, Italian, Spanish </strong>and<strong> Portuguese.</strong><br />
       </p></td>
     </tr>
     <tr>
     </tr><tr>
       <td><a href="http://www.youtube.com/watch?v=ZIsSTlLtnaA" rel="nofollow"><img src="https://pixelgrade.com/demos/assets/themes/bucket/presentation/demo-data.png" alt="BUCKET - A Digital Magazine Style WordPress Theme - 8" /></a></td>
       <td><h2 id="item-description__one-click-demo-install">One Click Demo Install</h2>
       <p><strong>REALLY!!</strong> Just one click and we set up everything: content pages, blog articles, menus, sidebar widgets.<br />
         <a href="http://www.youtube.com/watch?v=ZIsSTlLtnaA" rel="nofollow">Check out the Installation and Setup video »</a><br />
         <br />
       <em>Note: Images from the demo are replaced with placeholders.</em><br />
       <br />
       </p></td>
     </tr>
     <tr>
       <td><a href="https://themeforest.net/theme_previews/6107209-bucket-a-digital-magazine-style-wordpress-theme?index=2&url_name=bucket-a-digital-magazine-style-wordpress-theme"><img src="https://pixelgrade.com/demos/assets/themes/bucket/presentation/option-panel.png" alt="BUCKET - A Digital Magazine Style WordPress Theme - 9" /></a></td>
       <td><h2 id="item-description__powerful-options-panel">Powerful Options Panel</h2>
       <p>Customize the look and feel of your site with extensive theme options (based on the famous Redux Framework 3), custom website accent color, logo and many more.<br />
         <br />
       <a href="https://themeforest.net/theme_previews/6107209-bucket-a-digital-magazine-style-wordpress-theme?index=2&url_name=bucket-a-digital-magazine-style-wordpress-theme">View more screnshots »<br />
       </a></p></td>
     </tr>
     <tr>
       <td><img src="https://pixelgrade.com/demos/assets/themes/bucket/presentation/pixcodes.png" alt="BUCKET - A Digital Magazine Style WordPress Theme - 10" /></td>
       <td><h2 id="item-description__pixcodes-plugin">PixCodes Plugin</h2>
       <p>BUCKET comes with our <strong>powerful visual shortcodes plugin</strong> integrated right in your WordPress editor. Quickly add columns, rows, icons, buttons, progress bars and much more.
       <strong>Shortcodes made easy!</strong><br />
       </p></td>
     </tr>

      <tr>
       <td><img src="https://pixelgrade.com/demos/assets/themes/general/helper_img_left.png" alt="" />
       <img src="https://pixelgrade.com/demos/assets/themes/general/helper_img_left.png" alt="" />
       <img src="https://pixelgrade.com/demos/assets/themes/general/helper_img_left.png" alt="" />
       <img src="https://pixelgrade.com/demos/assets/themes/general/helper_img_left.png" alt="" /></td>

       <td><img src="https://pixelgrade.com/demos/assets/themes/general/helper_img_right.png" alt="" /></td>
     </tr>
  </table>
  <table>
    <tr>
       <td>
         <img src="https://pixelgrade.com/demos/assets/themes/general/ratings-title.png" alt="BUCKET - A Digital Magazine Style WordPress Theme - 11" />
       </td>
</tr>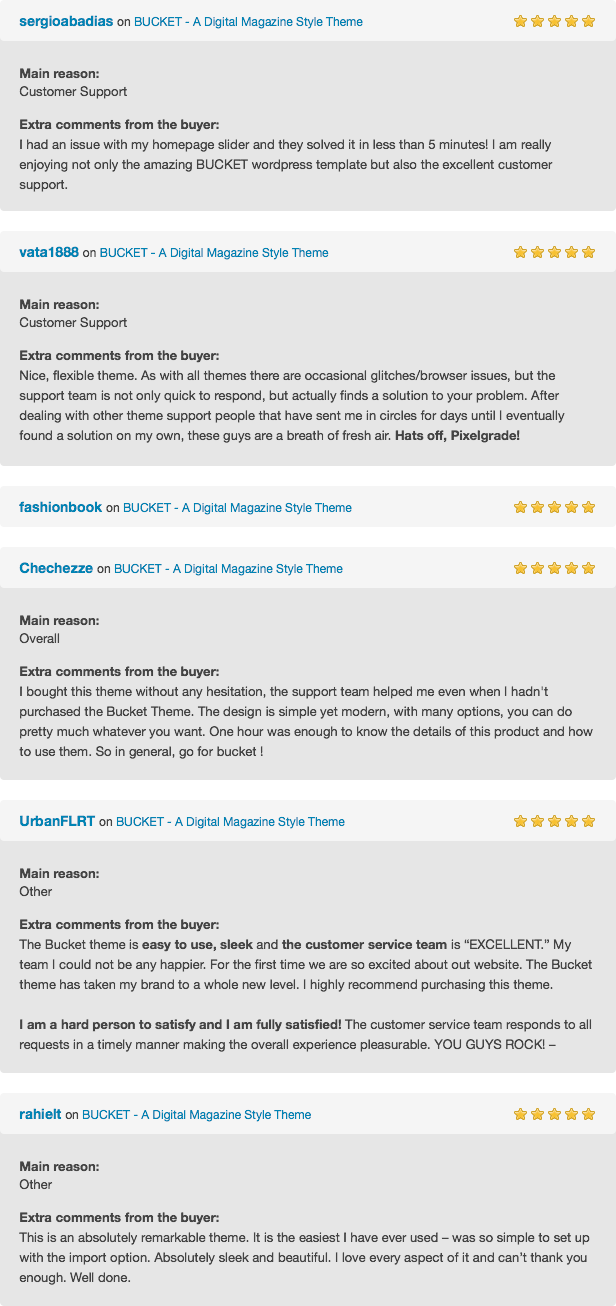 <h2 id="item-description__responsive-design-and-retina-ready">Responsive Design and Retina Ready</h2>
  <p>Because beautiful imagery and carefully written content need to shine on any device, <strong>BUCKET is a fully responsive, Retina-ready WordPress theme</strong>, with adaptive images that will look great down to the phone in your pocket.
  <h2 id="item-description__more-features">More Features</h2>
  Customize the look and feel of your site with <strong>extensive theme options</strong>, custom website accent color and a multitude of shortcodes.
  We&#8217;ve also provided you with a series of <strong>custom widgets</strong> so you don&#8217;t have to compromise on design: 
  <ul>
 <li><strong>Latest Posts, Latest Comments, Latest Reviews, Popular Posts</strong> widgets;<br /></li>
    <li><strong>Flickr</strong> and <strong>Dribbble</strong> photostream widgets;<br /></li>
    <li><strong>Social icons</strong> widget with custom icons and drag&#38;drop ordering.</li>
  </ul>
  We&#8217;ve taken the time to make this theme<strong> as easy to use as possible</strong>. We&#8217;ve integrated with many of the WordPress core features, like featured images and widgets, assuring a smooth crossing from your old theme.      

  <table>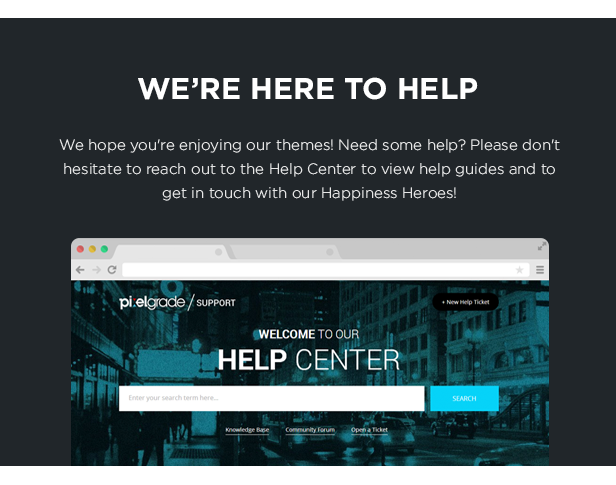 <h2 id="item-description__full-features-overview">Full Features Overview</h2>
  <table>
    <tr>
      <td><ul>
        <li><strong>Responsive</strong> Design</li>
        <li><strong>Retina</strong> Ready (provided you upload pictures at least 700px wide)</li>
        <li><strong>Unlimited colors </strong>control of the site-wide accent colour </li>
        <li>Over <strong>700 Google Web Fonts</strong> to choose from</li>
        <li>The custom made and easy to use <strong><u>PixCodes</u> plugin:</strong>
          <ul>
            <li><strong>Columns</strong> shortcode with interactive sliders</li>
            <li><strong>Icons</strong> shortcode (302 <strong>FontAwesome</strong> and 250+ <strong>Entypo</strong> icons)</li>
            <li><strong>Progress Bars</strong> shortcode</li>
            <li><strong>Separator</strong> shortcode</li>
            <li><strong>Button</strong> shortcode</li>
            <li><strong>Quote</strong></li>

          </ul>
        </li>
        <li><strong>Extensive theme options</strong> based on <strong>Redux Framework 3</strong></li>
        <li>Free from PHP notices and warnings (debug mode on was used during development)</li>
        <li><strong>Multilingual Translation and WPML ready</strong>, plus .po/.mo files for localisation included</li>
        <li><strong>Posts Stats Bar Graph</strong> in footer</li>
        <li>W3C HTML5/ CSS3 Valid</li>
      </ul></td>
      <td><ul>
      <li><strong>Custom Page Builder</strong></li>
      <li><strong>Social and SEO optimized:</strong>
          <ul>
            <li>Facebook <strong>OpenGraph</strong> meta tags</li>
            <li>Google Plus meta tags</li>
            <li>Twitter meta tags (Twitter Cards)</li>
            <li><strong>Schema.org markup </strong>for <a href="https://developers.google.com/+/web/snippet/" rel="nofollow">Google Rich Snippets</a> support</li>
          </ul>
        </li>
        <li>See images in a lightbox responsive and mobile ready modal window</li>
        <li>Multiple <strong>Post Formats</strong> support for Blog Posts (video, audio, gallery, image, link) </li>
        <li><strong>8 custom designed widgets:</strong>
          <ul>
            <li><strong>Latest Posts</strong></li>
            <li><strong>Latest Reviews</strong></li>
            <li><strong>Latest Comments</strong></li>
            <li><strong>Popular Posts (Jetpack based)</strong></li>
            <li><strong>Twitter </strong>Feed Widget</li>
            <li><strong>Flickr</strong> <strong>photostream</strong> widget (pull the latest images from a Flickr user or RSS feed)</li>
            <li><strong>Dribbble</strong> images widget that can display the latest images from a Dribbble user account</li>
            <li><strong>Social icons</strong> (with custom icons and drag and drop ordering)</li>
          </ul>
          </li><li>Back to Top animated button.</li>

      </ul>
  </td>
    </tr>
  </table>
  <h2 id="item-description__credits">Credits</h2>
  All images viewed in the live preview are for demo purposes only and are not included with your purchase.
  <h2 id="item-description__changelog">Changelog</h2>
  <strong>The current version is 1.7.0: </strong>Released on November 1, 2019.
  <a href="https://wupdates.com/bucket-changelog" rel="nofollow">Click here to view the changelog</a>