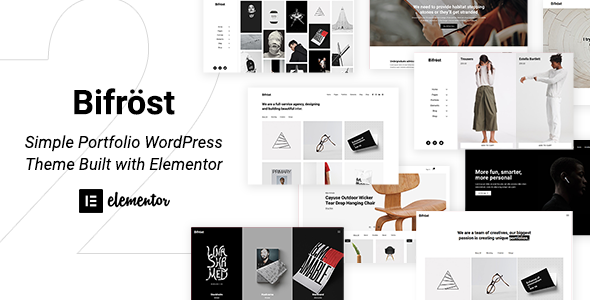 Bifrost 2.0! A huge transformation to the theme, more than 30 demos added and plenty of new elements and powerful features.
Simple Portfolio WordPress Theme
<strong>Bifrost</strong> is a very clean WordPress Theme which fits any needs, it finds use in different purposes like agencies, freelancers, photographers, e-commerce stores and many more. It is built with love and passion by our creative team, the elements are created with the trending page builder called Elementor. Elementor is a fully front-end page builder which is used in more than 3 million active websites and counting, template library, copy-paste feature, edit the spacing/margins for each device, shape dividers, one-click demo importer are only a few features that are included in Bifrost. Either you are a Designer, Freelancer or Photographer, the fully responsive theme that scales will transform your website into something more creative than you ever imagined.

Features
<strong>Elementor</strong> &#8211; Elementor is the ultimate WordPress page builder, the key difference is that you can reach a high level of design while designing live and on the front end of your site. Elementor is a page builder plugin that replaces the basic WordPress editor with a live frontend editor, so you can create complex layouts visually, and design your website live, without having to switch between the editor and the preview mode. The page builder enables you to reach a top-notch quality of design without needing to use code or CSS and doesn&#8217;t require code knowledge.

Header & Footer Builder – No limit when it comes to headers and footers, you'll be able to create an interactive header and footer layout via Elementor with the elements that we created to make it even easier for you, pre-defined headers can be included in the template library in only one click.
<strong>Customizer</strong> &#8211; With the very powerful innovative WordPress Live Customizer you will be able to preview the changes made to your WordPress website in real time before pushing them live. Lots of options will make it a breeze for you to modify the structure and the visuals of your theme, including color scheme, typography, portfolio, blog, shop layout, and much more.



<strong>WooCommerce</strong> &#8211; WooCommerce is for selling products and services. Specifically, it makes doing these things affordable and accessible. You can sell digital and physical products, manage inventory and shipping, take secure payments, and sort taxes automatically.



<strong>Revolution Slider</strong> &#8211; Slider Revolution (Revolution Slider) is an innovative, responsive WordPress Slider Plugin that displays your content the beautiful way. Whether it&#8217;s a Slider, Carousel, Hero Image or Video Scene for best conversion rates or even a whole Front Page, the visual, drag &#38; drop editor will let you tell your own stories in no time! Desktop or mobile device! It&#8217;s included for free, you&#8217;ll save 26$.



<strong>Template Library</strong> &#8211; Save your page designs as templates, and reuse them on other pages. This can speed up your workflow. You can export any template, and import it for use on other websites. This lets you share your templates with other designers.



<strong>One Click Demo Importer</strong> &#8211; A very handy feature which is added to the theme, you can import any of the demos of live preview in only one click, it won&#8217;t take more than a minute to set up. You&#8217;ll enjoy adding your content and playing with design, rather than creating everything from scratch.



<strong>Fully Responsive</strong> &#8211; Everything on theme is built with high responsibility, responsive is on the top of that list with every element responsive &#38; retina ready.



<strong>Hundreds of options</strong> &#8211; Theme offers more than 500 different options and shortcodes, all of them are combined to create a beautiful website for any purpose.



<strong>Advanced Typography Options</strong> &#8211; More than 600 different google fonts to choose from, highly advanced settings for each element in options.



<strong>Amazing Speed</strong> &#8211; Well organised template hierarchy offers incredibly fast loading time.



<strong>Shape Dividers</strong> &#8211; A very powerful feature added to the section offers a very beautiful way to create your pages with amazing layouts on the top of the section or at the bottom.



<strong>Powerful Grid Layout</strong> &#8211; Plenty of options like type, style, spacing and much more are included in the three different grid types blog, portfolio, and shop.



<strong>Clean Design</strong> &#8211; Light colors are combined to bring simple and beautiful designs for any purpose like freelancers, agencies, designers, architects, photographers and much more.



<strong>Amazing Portfolio</strong> &#8211; Are you interested to make your portfolio look cooler. Showcasing your portfolio never was easier, combine easily hundred of options created by powerful theme panel and the best page builder elementor, you&#8217;ll be able to choose between three different layouts, grid, metro or carousel, each one has their own amazing options.



<strong>Creative Blog</strong> &#8211; Creatively create your articles, your audience won&#8217;t be bored with the incredible layouts included on the theme, use the regular grid system or the beautiful types like masonry, metro or the carousel.



<strong>Powerful Shop</strong> &#8211; Start selling your products in some great looking grids, with plenty of options that can be mixed.



<strong>50+ Elements</strong> &#8211; Amazing elements ready for use in the front-end page builder Elementor, everything drag &#38; drop.



<strong>Ajax Mini Cart</strong> &#8211; Ajax Mini Cart allow customers to view and manage contents in cart easily. Customers can continue shopping without reloading page. Items in the cart can be managed easily from the Mini cart. It also syncs with the cart page using Ajax.



<strong>Parallax Effects</strong> &#8211; Parallax scrolling is a web site trend where the background content (i.e. an image) is moved at a different speed than the foreground content while scrolling. Click on the links below to see the difference between a website with and without parallax scrolling.



<strong>Fast and Reliable Support</strong> &#8211; To have someone cover your back 24/7 is something when it comes to the questions that are related to the product. The satisfaction of the client is what motivates us to work more and more. Currently, our author rating from our clients stands at 4.98 from 5 with more than 240 reviews with 5 stars. Start by creating a ticket at our support system at <a href="https://neuronthemes.ticksy.com" rel="nofollow">here</a>.



<strong>Inherit Option</strong> &#8211; Most of the options in the elements have the option to inherit the values from the theme options. With this option, you can create multiple pages or have multiple elements with the same settings inherited from the theme options. No worries, inherit is not the only option from the select, the inherit option usually stands at the top which is followed by the normal options.



<strong>No coding knowledge required</strong> &#8211; There are options for almost everything, no extra knowledge is needed to build the website of your dreams.



<strong>Auto Updates</strong> &#8211; Compatible with the Envato Market Plugin, the theme can be updated easily with only one click via the dashboard menu.



<strong>Visual Editor</strong> &#8211; Edit the paragraphs, headings, lists and much more elements in real-time.



<strong>Translate Ready</strong> &#8211; Ready to be translated in any language, it fully supports all multilingual plugins like WPML, Polylang, Loco Translate and much more.



<strong>Mega Menu</strong> &#8211; Advanced options on the menu item make it very easy and quick to make it mega menu, no need to add extra classes for columns and activation, there are simple options to choose.



<strong>Unlimited Google Maps Styles</strong> &#8211; Embed your google map in very easy steps, you can stylize easily the map choose the color, saturation, and many more CSS filters.



<strong>Adaptive Images</strong> &#8211; Image size attributes are well organised to enhance responsive image functionality.



<strong><a href="https://neuronthemes.com/documentation/bifrost/" rel="nofollow">Professional documentation</a></strong> &#8211; The documentation is to help you regarding each step of customization. Please go through the documentation carefully so you can understand how this theme is made and how to edit this properly.

Advanced Google Maps – While the existing google map did not offer many possibilities, we saw the need to create a better one, which will fit any need of the client, the style can be enhanced easily, also there are included all the possible options, like enabling or disabling the zoom, touch drag, mouse drag and much more, what's best to the element is that you can add multiple markers to your map.
Instagram –
No more need to install third-party plugins to embed your Instagram posts directly to the website, an element called Instagram has been created with a lot of options where you can choose between the layout, spacing, columns and much more.
Theme Borders –
Frames can be added easily to all your pages via the Customizer options or for each page individually, there are some
settings can be enhanced like the thickness, color, box-shadow and much more.
Extended Features
Elementor Ready
Live Customizer
Revolution Slider Included
WPML Ready
One Click Demo Importer
Fully Responsive
Mega Menu
Header Builder
Footer Builder
Translation Ready
Retina Ready
Sticky Menu
Nav Menu Element
Search Element
Site Logo Element
Menu Cart Element
Site Title Element
Column Flex Options
Section Fixed Options
WooCommerce Compatible
Ajax Mini Cart
Footer Widgets
Site Width
Related Posts
Author Box
Slide Menu
Visual Editor
Top Header
Parallax Page Header
Ajax load more
Child Theme Included
600+ Google Fonts
Advanced Typography Options
Smooth CSS3 Animation
Portfolio Metro
Blog Metro
Shop Metro
Isotope filers
Packery Layout
Valid HTML5/CSS3
Font Awesome
Mobile Menu
Powerful Hero
Images SEO ready with attributes
Multiple Map Markers
Fancybox Gallery
Social Networks integration
Portfolio Carousel
Blog Carousel
Shop Carousel
Social Media Share
SEO Optimized
Unlimited Colors
Maintenance Mode
Import/Export the options
Coming Soon Mode
Testimonials Element
Icon Box Element
Image Box Element
Attachment Page
Split Screen Page
Social Media Element
Lightbox for images
Advanced Search Page
ACF Repeater
ACF Flexible Content
Gutenberg Ready
Custom 404 Page
Powerful Video Element
Basic Dividers
Advanced List Styles
Unlimited Colors
Shape Dividers
Gradient Colors
Accordion Element
Toggle Element
Advanced Grid System
Woo Pages
Powerful Portfolio Item
Counter Element
Progress Bar Element
Smooth Scroll
500+ different options
Tested with theme check
Customizable Categories
Masonry Images
Incredible load time
Team Members Grid
Team Members Carousel
Team Members Metro
1000+ Icons
Sidebar Widgets
Sidebar Header
Coded in PSR2 style
Contact Form 7
Developer Friendly
Commented Code
Parallax Foote
Taxonomy Page Options
Author Page Options
Search Page Options
Highly Customizable
Custom Sidebars
Image Sizes
Lifetime updates
Youtube, Vimeo and Dailymotion supported
Made With Debug Mode On
Professional Online Documentation
Demo Files Included (XML)
WordPress 3.9+ Ready
Supports JetPack plugin
Supports Yoast SEO plugin
Excellent Customer Support
Supported Plugins
WooCommerce
JetPack
Contact Form 7
WMPL
Polylang
Loco Translate
Revolution Slider
Yoast SEO
Mailchimp
W3 Total Cache
Ninja Forms
WP Super Cache
And many more…
Notes
The images from live preview are not included in the package.
Server Requirements
PHP Version: 7.0 or greater
MySQL Version: 5.6 or greater
The mod_rewrite Apache module
upload_max_filesize = 16M
memory_limit = 128M
Changelog

Version 2.2.2
- Compatible: WooCommerce 5.6.0 Ready
- Update: Slider Revolution 6.5.8
- Fix: Merlin Logger throws issue on PHP 8.0

Version 2.2.1
- Fix: WooCommerce 5.4.1 Ready
- Update: Slider Revolution to 6.5.2

Version 2.2.0
- Fix: Issue on tgmpa when installing theme on local
- Fix: WooCommerce 5.2.2 Ready
- Update: Slider Revolution to 6.4.8

Version 2.1.9
- Fix: Leave a reply string translatable
- Fix: functions.php line 319 issue

Version 2.1.8
- Fix: Loading Issue in WordPress 5.6.0
- Neuron Core: 2.1.6
    - Fix: Loading issue in Safari & Firefox

Version 2.1.7 
- Fix: WooCommerce Compatible 4.8.0
- Fix: WordPress Compatible 5.6.0
- Fix: Slider Revolution: 6.3.3
- Neuron Core: 2.1.4
    - Fix: Custom Post Types Support in Posts
    - Fix: Issue on Posts loading in Firefox

Version 2.1.6
- Neuron Core 2.1.3
    - Fix: WPML Translate: Countdown, Media Gallery, Search Form, Price List, Testimonial Carousel, Progress Bar

Version 2.1.5
- Fix: WordPress Compatible 5.5.3
- Fix: Woocommerce Compatible 4.7.0
- Fix: Slider Revolution 6.3.1

Version 2.1.4
- Fix: WooCommerce Compatible 4.4.1
- Neuron Core Plugin (2.1.2):
    - Fix: Mega Menu & Mobile Menu Calculation in Elementor 3.0

Version 2.1.3
- Fix: WooCommerce Compatible 4.4.0

Version 2.1.2
- Fix: WordPress Compatible 5.5.0
- Fix: WooCommerce Compatible 4.3.3
- Fix: Slider Revolution 6.2.22

Version 2.1.1
- Fix: WooCommerce Compatible 4.2.0
- Fix: WordPress Compatible 5.4.x

Version 2.1.0
- Fix: WooCommerce Compatible 4.0.x
- Fix: WordPres Compatible 5.4.0
- Fix: Slider Revolution 6.2.10
- Fix: Add to Cart Translation
- Fix: Title not showing in Side Portfolio
- Fix: Post Type translatable in Search Page
- Fix: Theme doesn't fail without WooCommerce
- Neuron Core (2.1.0):
    - Fix: Hamburger not opening menu in editor
    - Fix: Template Element not being translated with WPML
    - Fix: Related Portfolio Items doesn't work when more than one category 
    - Fix: Google Maps breaks when entering markers with multi lines content.
    - Fix: Auto Query will work on archive pages.
    - New: New Filter for share social icons in single. 'bifost/share_icons/after'

Version 2.0.5
- WooCommerce Compatible 3.9.2 (Fix)
- Revolution Slider 6.1.8 (Update)
- Password Protection for Portfolio Item Tabs (Fix)
- Password Protection for Portfolio Item Gallery (Fix)
- Pagination not working properly in Shop Archive (Fix)
- Increase z-index of Close Search Icon (Fix)
- Neuron Core(2.0.2): 
    - Call the google api when using only Advanced Google Map element (Fix)
    - Meta Description in Meta Inside of Media Gallery (Fix)

Version 2.0.4
- WordPress Compatible 5.3.2 (Fix)
- WooCommerce Compatible 3.9.0 (Fix)
- Slider Revolution 6.1.7 (Update)

Version 2.0.3
- WordPress Compatible 5.3.1 (Fix)
- WooCommerce Compatible 3.8.1 (Fix)
- Show More Issue on Post Element(Fix)
- Slider Revolution 6.1.5 (Update)

Version 2.0.2
- Neuron Core 2.0.1
- Hamburger ID issue (Fix)

Version 2.0.1
- Slider Revolution 6.1.3 (Update)
- WordPress Compatible 5.2.4 (Fix)
- WooCommerce Compatible 3.7.1 (Fix)
- Mobile Menu Calculation on IE & Firefox (Fix)
- Footer Social Media Missing Style on Right (Fix)

Version 2.0.0
- Simple Portfolio Demo (New)
- Shop Fashion Demo (New)
- Restaurant Demo (New)
- Simple Photography Demo (New)
- Architecture Demo (New)
- App Landing Demo (New)
- Studio Agency Demo (New)
- Education Demo (New)
- Justify Portfolio Demo (New)
- Construction Demo (New)
- Personal Portfolio Demo (New)
- Creative Agency Demo (New)
- Shop Parallax Demo (New)
- Wedding Demo (New)
- Product Carousel Demo (New)
- Saas Landing Demo (New)
- Dark Portfolio Demo (New)
- Furniture Store Demo (New)
- Travel Agency Demo (New)
- Interactive Grid Demo (New)
- Projects Showcase Demo (New)
- Medium Blog Demo (New)
- Portfolio Tooltip Demo (New)
- Products Showcase Demo (New)
- Projects Gallery Demo (New)
- Video Showcase Demo (New)
- Simple Blog Demo (New)
- Portfolio Boxed Demo (New)
- Designer Landing Demo (New)
- Interactive Links Demo (New)
- Portfolio Fixed Demo (New)
- Interactive Posts Element (New)
- Instagram Element (New)
- Testimonial Carousel Element (New)
- Advanced Google Maps Element (New)
- Price List Element (New)
- Animated Headings Element (New)
- Template Element (New)
- Advanced Demo Importer (New)
- Theme Borders (New)
- Site Width (New)
- Related Posts (New)
- Parallax Footer (New)
- Author Box (New)
- Justify Layout (New)
- Meta Fixed & Meta Tooltip (New)
- Video to Media Gallery (New)
- Offset Grid Style (New)
- Extra Loading Animation (New)
- Auto Query for Related Posts (Fix)
- Responsive Column Options (Fix)
- Code and Selectors Refactor (Fix)

Version 1.1.0 
- Portfolio Metro Demo (New)
- Portfolio Split Demo (New)
- Coming Soon Page (New)
- Header Builder (New)
- Footer Builder (New)
- Nav Menu Element (New)
- Menu Cart Element (New)
- Search Element (New)
- Hamburger Element (New)
- Site Logo Element (New)
- Site Title Element (New)
- Countdown Element (New)
- Fixed Section Options (Updated)
- Body Offset Options (Updated)

Version 1.0.0 
- Initial Release

<p><a href="https://neuronthemes.com/newsletter" rel="nofollow">Subscribe To Our Newsletter</a> | 

​ Like Our Facebook Page |
​ Join our Facebook Community Group |
Follow Us On Instagram |
Follow Us On Twitter |
Subscribe Us On YouTube |
Follow Us On Dribbble |
Follow Us On Behance



Source