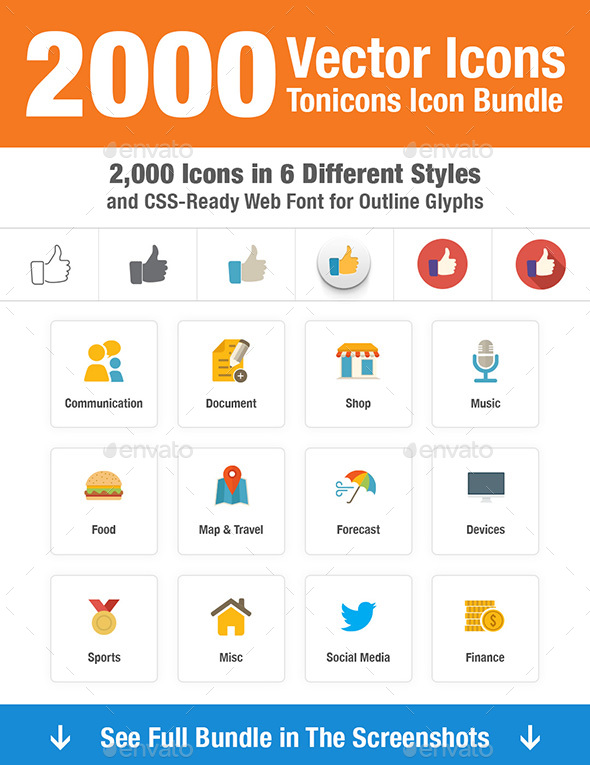 6 DIFFERENT STYLE ICON SET IN 1 GIGANTIC BUNDLE CALLED "TONICONS"
With more than 2,000 universal pixel-perfect, high quality and royalty-free vector icons, Tonicons is the one and the only bundle that any designer will need. Download Tonicons now, add it to your icon kit or clipart toolbox and start using the icons for all your great projects.

<strong>It&#8217;s been more than a year since Adobe put Tonicons into Creative Cloud for their market costumers. It&#8217;s a great honor for us and now we share it all for you to use them on your projects.</strong>

<strong>- 6 DIFFERENT ICON SETS:</strong> <br />

This awesome bundle includes 5 different royalty free icon set. You'll have flat icons, long shadow icons, solid icons, button style icon graphics and outline icons all in one in this gigantic collection.
<strong>- OVER 2,000 PROFESSIONAL ROYALTY FREE ICONS:</strong> <br />

This huge collection gets you a well-designed, well-layered over 2,000 high-quality, professional royalty free icons to use on your latest project!
<strong>- FULLY CUSTOMIZABLE VECTOR ICONS:</strong> <br />

The bundle gets you the PSD, EPS, SVG and PNG files for all these high-quality icon sets. So, you can easily customize them, change up the size, colors or any other details easily!
<strong>- A CSS READY ICON FONT:</strong> <br />

It is a css ready web icon font that works perfectly and easy to use for your apps or web projects.
<strong>- MULTIPLE SIZES:</strong> <br />

The bundle includes a number of preset popular sizes. PNG files for all flat, long shadow, solid and outline icons come in 7 sizes: 20×20, 32×32, 48×48, 64×64, 128×128, 256×256 and 512×512 pixels except the button style icons. The PSD files are 100% vector shapes and built at 128×128 pixels.
Please don't forget to rate it!